Guess where I'm going...! [x3]
Ooh yeah... been trying to get some tickets from eBay for a while now, and I finally got two A reserve seated tickets [I'm going with Steph x3] for $320!! We're paying an extra $60 since normal tickets (which btw, are all sold out) are only $100, but hey, it's Backstreet Boys!!

Anyway, haven't been up to much lately. Peter came back a few days ago [whoohoo! xD] so that was cool.

Went to Wang's house to watch Kimi Ga Nozomu Eien with Chii Shi, Allan, and Peter... although we had to go to Peter's house to wake him up [>.>]. Peter disappeared the night before on everyone's MSN when he went to shower and cut his hair. It wasn't until about 4 hours later we realised that he probably wasn't coming back.
Oh yeah, and Peter bought me a present [x3]: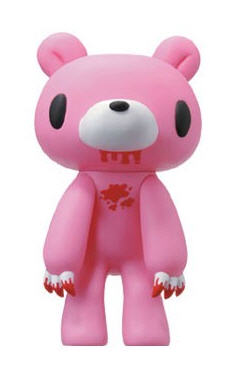 The soft toy version of that, lol. It's actually pretty big... and Allan and Wang had to violate it with continuous crotch-grabbings. Poor bear [.__."]
Also met up with Andrew in Glenny and had dinner at Bob's. Apparently it might be closing down 'coz the owner sold it. Anyone know anything about this? I like my dumplings [=/].
And yesterday I got violently woken up by my sister the other day, and by violently I mean she opened my door ridiculously loudly and went "MUM'S ANNOYED AND SHE WANTS YOU TO GET UP AND GO DOWNSTAIRS AND EAT LUNCH!" And my mum wasn't really annoyed, I just got some residual angry from my sister 'coz my mum was pestering her about something, and she was talking to her boyfriend on the phone and was in a bit of a shit with him, lol.
Didn't do much until much later (10:30pm or so) when I went to
Wang's house with Peter again with the intention of finishing the last few episodes of KGNE... but ended up going to Vincent's since he just got back from Hong Kong too, lol. HE HAS AN ELECTRIC VIOLIN, WHICH IS RIDICULOUSLY AWESOME [o____o!!] And he bought back a bunch of rings with star sign symbols on them; I took the one with Aries [=3]. It's kinda chunky for a girl ring, and it's a little loose, but it's still cool and I like it.
After that, went to pick up my sister from her boyfriend's/Lawrence's apartment in the city [Peter and Wang tagged along to keep me company in the car =3], and went home.

So yeah... that's about it. I seriously need more things to do, I'm spending waaaay too much time on Gaia when really I'm doing all day is posting random crap. If you have any ideas, feel free to tell me. Please [D;]